[powr-tabs id=4e348e8b_1501161649107]
FOR MEDIA INQUIRIES
Jordan T. Weiner
Phone: 313-626-6377 (1-313-MANNERS)
marketing@childrensbehavioreducation.com
FOLLOW US
[powr-social-media-icons id=0262de9f_1501161139448]
---
ABOUT THE COMPANY
Our mission is to inspire, engage, and empower children's (and guardian's) behavioral competencies by helping build lifelong relationship skills and self worth through improved self-awareness, self-management, social awareness, relationship skills, and responsible decision-making.
A significant amount of a person's behavioral foundation is formulated by the age of eight.  Most parents (and guardians) are not positive reinforcement experts and/or don't have the time or expertise to put together the process or materials that resonate with their child(ren).  How To Be Good For Santa, Inc. solves this problem.
Our products break through behavioral learning barriers all while using colorful illustrations and kid-friendly material which makes learning proper social behavior fun. The process and products are easy and ready to use tools for adults.
---
---
ABOUT THE EXECUTIVES
Lauren Alexa Weiner at the young age of 7 had the "flash of genius" for How To Be Good For Santa business idea.  When she turned 12 and was interested in starting a business to help her get into a good college and earn money she was aided in bringing her business vision to fruition by her entrepreneurial, co-founder father, Jordan T. Weiner (who is also the owner of Internet Consulting, Inc.).
Lauren reviews and revises all illustrations, copy, graphics and other aspects of every product.   She originally thought she wanted to be an animator – however after seeing how amazing our professional illustrators work is she now likes to review and make revisions for all our illustrations.  It is great she has learned to seek out and trust top professionals in anything you do in life.  Lauren used to want to figure everything out on her own, now she appreciates listening and learning (and supervising and revising work when needed) from professionals.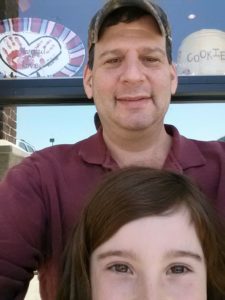 Jordan T. Weiner realized that society had a need: addressing the issue of manners going in the wrong direction.  Many things ranging from our role modeling television shows, video games, recent presidential politicians, and others portray wrong proper social behavior messaging.
We believe if given the opportunity to learn from top tier positive reinforcement materials most children want to be good.  With core messaging such as "be good for goodness sake, not because Santa or anyone is watching or expecting presents in return" and "treat others as you want to be treated" and "just because others act badly is not a reason to act naughty in return" in conjunction with sharing exact words and actions to use, helpful tips, and educational aspects integrated into our materials How To Be Good For Santa, Inc. breaks through behavior education barriers so children build life skills and self worth while playing.
It truly takes a village to bring an idea to life successfully.  We could not have done this business without our talented illustrators, graphic artists, authors, children's education specialists, website designers, social media persons, internet marketing persons, media contacts, printers, fulfillment house, amazing grandparents Terri and Lawre, and to many others to detail in this bio.  All of whom believed in the cause and went above and beyond to ensure all aspects where done and done right.
We hope our business helps strengthen, and expand, children's and adult's relationship skills resulting in bettering relationships in self, family, education, recreation, community, and society— and therefore humanity for generations to come.